Phu Quoc Island is known as a paradise island because of the beautiful scenery bestowed by nature and rich tourism potential. Around the island, there are many beautiful beaches such as Truong beach, Khem beach, … Visitors can swim, climb mountains, go to caves or go to the forest… experience all the beauty of the place.
Phu Quoc Tranh waterfall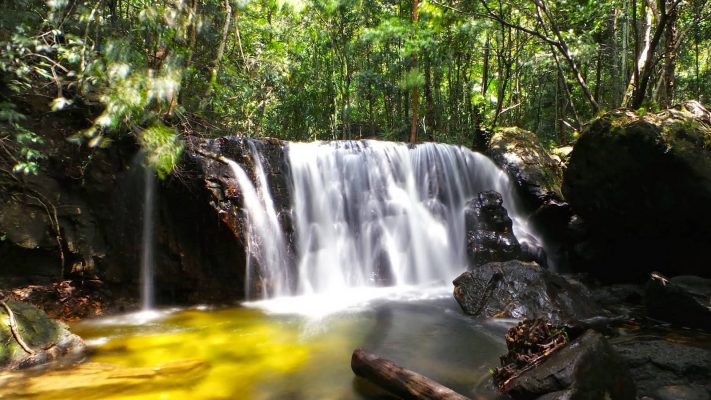 Famous for its green natural landscape of tropical trees combined with large rocks. You will see the beauty of small white waterfalls and hear the sound of wind blowing in the mountains.
Khu Tuong pepper garden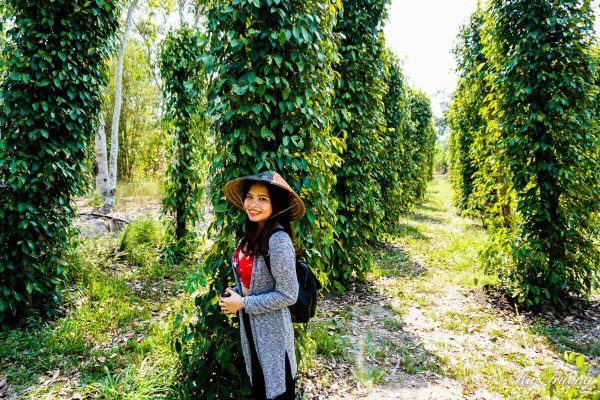 Phu Quoc has pepper with a stronger spice than other places. Going on the road from Duong Dong to Ganh Dau 2, you will see many beautiful pepper gardens. After visiting, visitors can buy pepper as a gift. The most grown pepper garden is Khu Tuong, about 15km north of Duong Dong.
Phu Quoc national park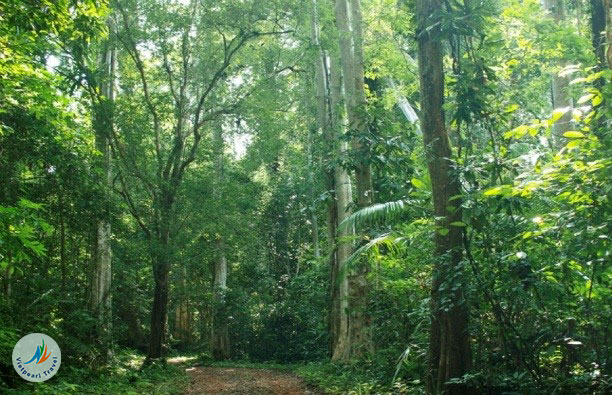 Visiting Phu Quoc National Park, travelers can observe the green and lively natural space. In addition, you can also explore the top of Chua mountain – the roof of Phu Quoc with an altitude of up to 600m. Here, the whole beautiful island will be in full view. It is an endless stretch of green, surrounded by the sea.
Ham Ninh fishing village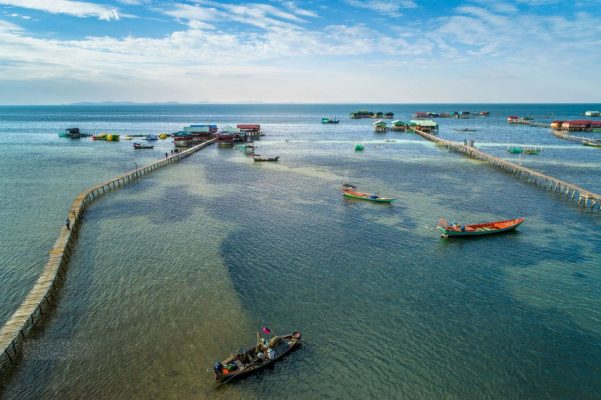 This destination is located on the east coast, about 20km northeast of Duong Dong. Unlike other places in Phu Quoc, Ham Ninh fishing village is a place where you can experience the life of the people on the island. Residents mainly live by pearl diving, catching sea cucumbers and making crab nets.
An Thoi archipelago
Bringing the beauty that attracts thousands of tourists every year; An Thoi archipelago not only has an important economic and military position, but it also takes place many busy trade activities with many fish markets. Including 18 large and small islands, and many famous islands with unique beauty and beautiful beaches such as Thom island, Mong Tay island, Dam Ngang island, May Rut island, Kim Quy island, Kho island, Roi island.
Thom island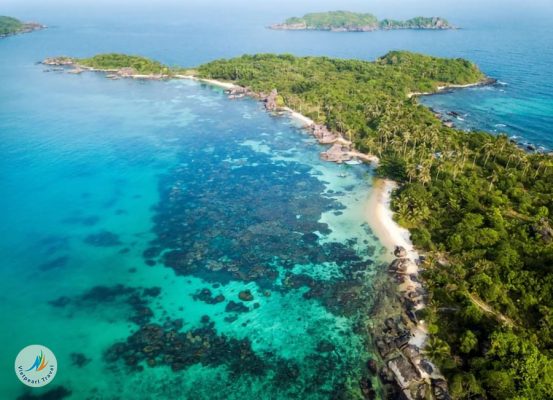 Tourists know Hon Thom with its long coastline and wild scenery at Nam beach, Nom beach, and Chuong beach. Not only swimming but also many other fun activities also available such as diving to see colorful coral reefs, windsurfing, canoeing, paragliding, kayaking, squid fishing at night, and having fun at the Sun World water park.
Dam Ngang island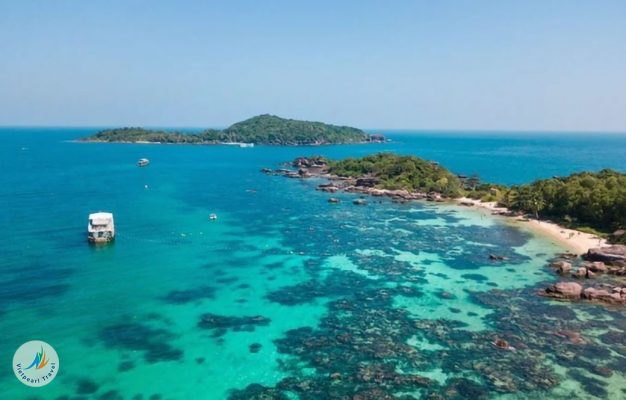 The seawater here is so clear that the bottom can be seen, the sea surface is covered with countless large rocks, and although it has been eroded over time, it is still strong enough for visitors to rest and sunbathe here.
Mong Tay island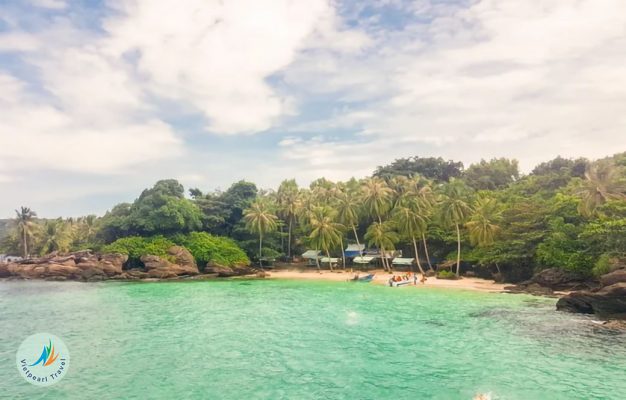 Previously, on Mong Tay Island, many pine trees lived. Over time, the number of pine trees gradually decreased, giving way to thousands of large coconut trees laden with fruit. The blue colors of the sea and the sky seem to blend into one, highlighting the shimmering golden sand in the sunlight. Snorkeling to see sea anemones and corals or floating on the waves and sipping seafood is an interesting  experience here.
May Rut island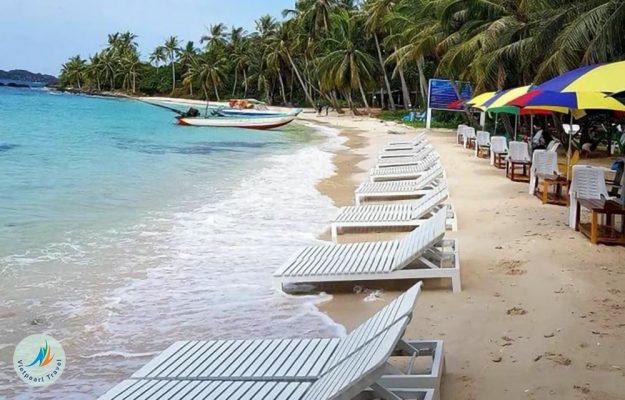 Located about 10 km west of An Thoi port and one of the furthest islands of Phu Quoc. The pristine scenery and the jade green beach make visitors feel relaxed and peaceful.
Sao beach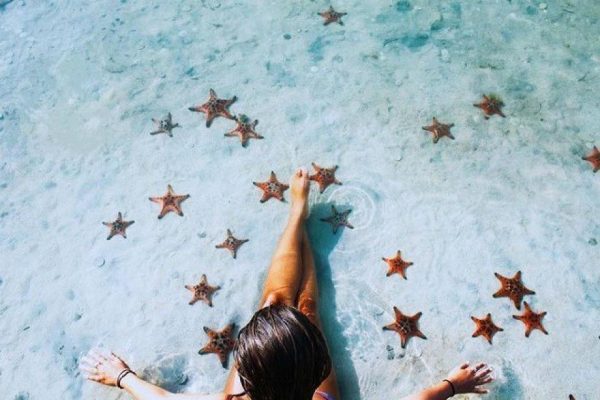 Coming to Sao beach, visitors will be ecstatic by the beauty of the blue sea with white sand, especially from May to the end of September. The name " Sao beach" originates from an interesting natural phenomenon when nightfall, thousands of starfish begin to migrate ashore, creating an extremely strange image. Fresh climate, gentle sandy shore, no slopes or stones, so it is very suitable for families traveling with young children. Coming to Phu Quoc without visiting Sao beach is a very regrettable thing.
Khem beach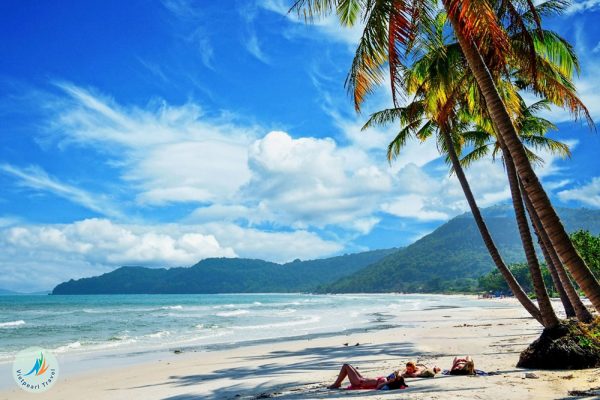 Located 25km from Duong Dong town to the south of the island, about 2km from Sao beach through a small road, Khem beach has the shape of a bow, surrounded by forests on both sides, creating a quiet and peaceful beauty. Previously, Khem beach was under the management of the military due to its tactical position, but now there have been many projects to build luxury resorts. Khem beach not only attracts visitors by the white sand and beautiful beach but also has many fresh specialties, including delicious herring salad and grilled urchin after swimming on the beach. Kayaking, fishing, or night squid fishing with fishermen in the fishing village are also interesting activities not to miss here.
Gieng Tien Beach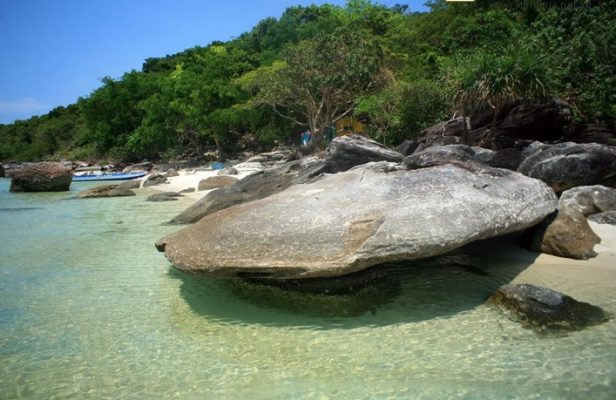 It is an isolated beach located far from Khem beach through long and craggy cliffs Visitors can only get here by boat, by climbing the cliffs, or by walking through the forest. Not only is it home to the famous Gieng Tien relic, but it is also an attractive beach with natural landscapes that have not been affected by humans.
Truong Beach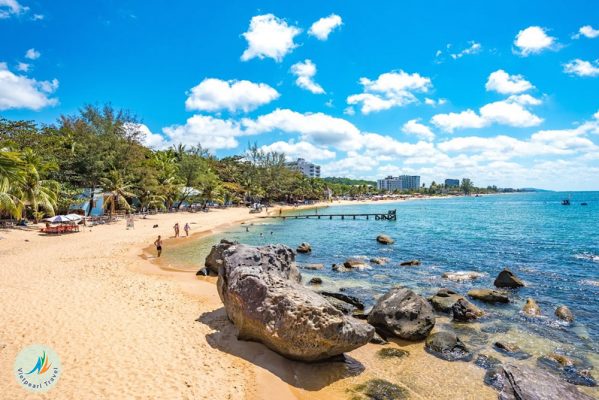 Located on Tran Hung Dao street, stretching for nearly 20 km from Dinh Cau to Tau Ru, Truong beach is known by locals as the Phu Quoc soul because of its ability to change color. The sea surface is as clear as a mirror reflecting sunlight at different times of the day creating different colors. Truong beach is also the favorite beach in Phu Quoc with thousands of coconut and poplar trees running along the coast, making a peaceful scene. Swimming in the cool blue water, walking barefoot on the sand, eating seafood, and watching the sunset slowly fall on the sea are the most amazing moments visitors can experience.
Ba Keo Beach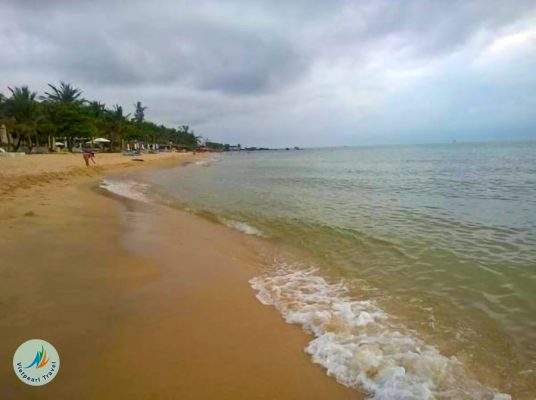 This is the most attractive beach in Phu Quoc, located in the heart of Duong Dong, Ba Keo beach is not only romantic with smooth sand but also attractive with many convenient services here. Tourists stop to rest and enjoy their stay at luxury resorts, eating seafood, playing skateboarding, and swimming in the cool water when coming to Ba Keo beach.
Dinh Cau Cape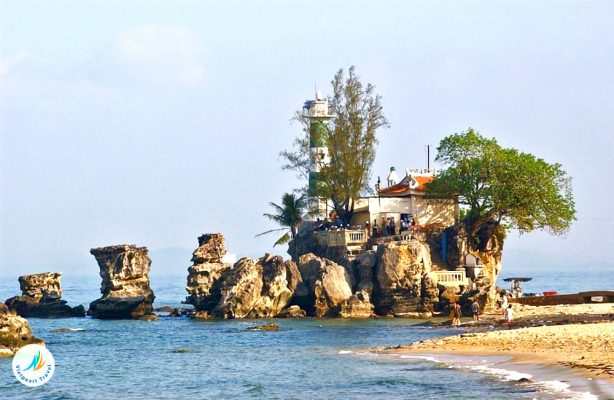 As a part of Truong beach, this place is also known as Duong Dong beach because it is near Phu Quoc market, so many tourists come to enjoy and take pictures. It is not only a great place to watch the sunset on the beach, but also a place to visit the ancient Dinh Cau temple and explore the local belief and culture here.
Ong Lang Beach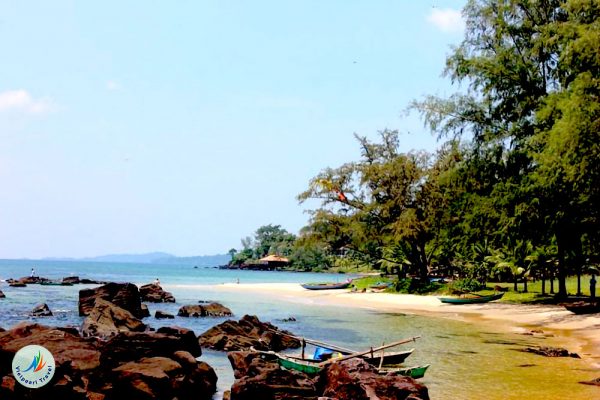 About 7km from Duong Dong to the northwest of the island, some parts of the beach were interrupted by stone blocks creating a distinct beauty. The mild weather and calm waves reflect the clear blue water, creating a bright pink color between the clouds and the sky. This is also a place where international tourists come in large numbers, especially in the dry season. Swimming, sunbathing, enjoying seafood, barbecue, watching the sunset, fishing, snorkeling, and kayaking are interesting experiences with Ong Lang beach.
Ganh Dau Cape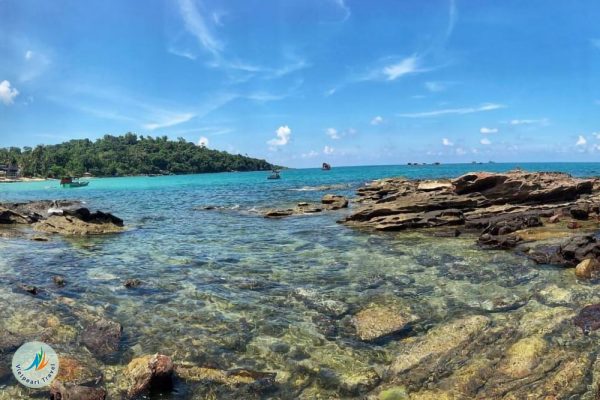 Located quite far from Duong Dong center to the northwest of the island protruding to the sea, Ganh Dau cape is sparsely populated, so Ganh Dau beach is deserted and rustic with a rough wild character. The clear blue water surface can be seen from the bottom. At the end of Ganh Dau beach, there is a rocky reef with all kinds of strange shapes that have been damaged by waves. This is also a place to anchor fishing boats to exchange and buy, so people can eat seafood instantly after asking people to process it right on the boat.
Rach Vem Beach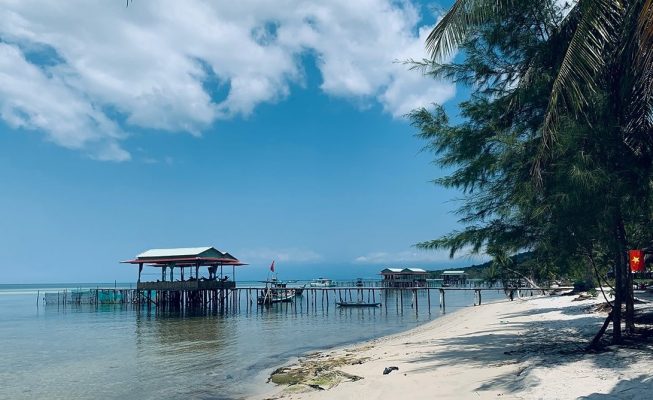 The ideal destination for travelers who want to combine exploring nature and enjoying local specialties. About 40 km from the center of Duong Dong, Rach Vem is a relatively small and quiet fishing village, the beach has smooth sand covered with wild moss that will satisfy the experience of visitors coming to swim in the sea. Travelers should visit Rach Vem fishing village at the most beautiful time from November to March next year. There have been many projects to build resorts with modern equipment worth millions of dollars here.
Thom Beach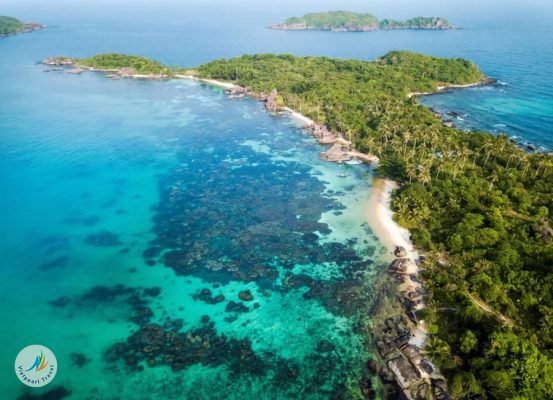 35 km from Duong Dong, traveling by the forest road, Thom beach has dark yellow sand, the sea is overflowing, the view of the mountains here will make visitors overwhelmed upon arrival.
From the position of Thom beach, you can zoom in to see the strange Cambodian border. When coming to Thom beach, visitors can cross a road on the sea about 100m to discover the Mot island filled with the purple color of sea water morning glory. This place is sparsely populated, so there is no tourism service and is only suitable for tourists to explore, visit and hunt for strange and wild natural scenery.
Grand World Phu Quoc deserves to be an excellent destination for the whole family. When you come here, you will experience interesting things. Make a plan to come to the city today.
Nothing to worry or hesitate, visit website of Vietpearl Travel: https://vietnampleasetour.com/
Vietpearl Travel is pleased to serve you, Please kindly contact with Team of Vietpearl Travel
Skype / WhatsApp / Viber / Zalo:+84 937 195 195