"Located on the Southwest Sea of Vietnam in the territory of Kien Giang Province, next to Cambodia and Thailand belong to the Gulf of Thailand. So Phu Quoc Island possesses many pristine beaches stretching from the North to the South of the Island. Attract tourists from all over the country to international tourists traveling to Phu Quoc."
Phu Quoc is really a beautiful Island with a peaceful, fresh natural landscape.  Additionally, a favorable climate for recreational activities and relaxation and potential fishery for seafood, the ideal destination for many interesting nature explorations.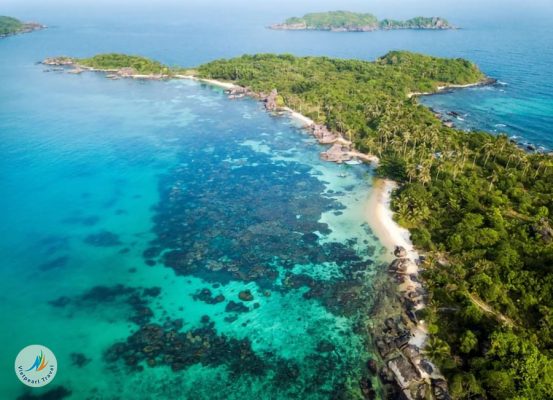 The first Island city of Vietnam
Recognized as a grade 2 urban area by the Prime Minister in 2014 with two towns of Duong Dong and An Thoi. Phu Quoc became an Island city on March 1, 2021, based on a 589.27 km² area and a population of 179,480 people. With 9 administrative units including 2 wards Duong Dong and An Thoi and 7 communes Ham Ninh, Duong To, Ganh Dau, Bai Thom, Cua Duong, Cua Can and Tho Chau.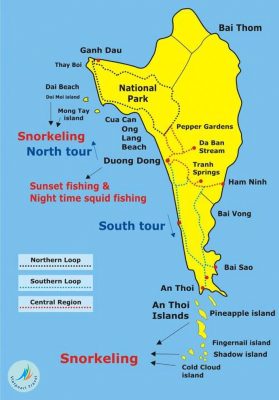 Visa-free for foreigners when traveling to Phu Quoc
On July 1, 2020, the Prime Minister approved Phu Quoc to apply the visa exemption policy for foreigners. According to the new Law on Entry and Exit, the resolution on visa exemption for foreigners entering the Phu Quoc economic zone takes effect with a temporary stay of 30 days. Because Phu Quoc fully meets the following 4 conditions:
An international airport with its separate space

Definement of geographical boundaries and separation from the mainland

Conformity with the social-economic development policy

Harmless to the national defense, security, social order, and safety of Vietnam.

The visa exemption for foreigners
Honored on the World Tourist Map
Almost no one knows about it, suddenly the Phu Quoc tourist destination has risen dramatically. Named on the global tourism map with many prestigious awards and titles around the world.
In 2016, AsiaOne's travel page voted Phu Quoc in the Top 10 ideal beach tourism destinations in Asia. Phu Quoc is introduced as the largest island in Vietnam. Located on the southwest coast of Vietnam, attracting many international tourists to come here.

In 2018, CNN voted Phu Quoc among the top 5 destinations worth traveling in the fall in Asia. According to CNN, if you're dreaming of a beach getaway in Asia. Phu Quoc would be the top contender with just an hour's flight from Ho Chi Minh City and 30 days of visa-free travel.

In 2019, CNN continued to vote Phu Quoc as the best destination to experience Asia in 2019. CNN Travel page has the article "Best places to visit for the ultimate Asia experience" by author Kate Springer praising Phu Quoc Island as the most beautiful beaches in Asia.

In 2020, TripAdvisor is the World's largest travel website with more than 60 million members and over 170 million reviews announced the "Traveller's Choice of the Year" award. Phu Quoc is the only name of Southeast Asia located at 7/25 position in the ranking

In 2021, the International Living website published a study on overseas retirement trends and nominated Phu Quoc in the Top 15 best islands in the world to enjoy in retirement at the affordable price with a simple and peaceful life by the sandy beach and gentle wind.

Also in 2021, Time Magazine of the US voted Phu Quoc pearl island in the Top 100 most attractive destinations in the world in the year. Phu Quoc's attraction comes from its natural beauty and potential development with the fastest growth rate in the Southeast region.

Currently, Phu Quoc is the safest green area in Vietnam amid the Covid pandemic. A place with almost no Covid cases and isolated on the island.

Phu Quoc Island Map
Welcome back Phu Quoc Island
The isolation hotel system ensures medical conditions, ready to serve for suspected cases. In addition, Phu Quoc International Airport can welcome 2-3 million international passengers per year. Currently, it can handle 7-8 landings and take-offs per hour (4 domestic flights and 3-4 international flights). Tourism infrastructure has more than 25,000 accommodation rooms. With 16 five-star hotels, 7 four-star hotels, 7 three-star hotels, and many other large-scale accommodation establishments. Besides, Phu Quoc also has many large-scale resorts, attractions, and entertainment attractions such as Vinpearl, Sunworld, cable car, casino, golf course, night market, Safari, Grand World, and Vinwonders. In conclusion, with the above content, it shows that there are enough conditions to be able to welcome tourists back to Phu Quoc Tourism.