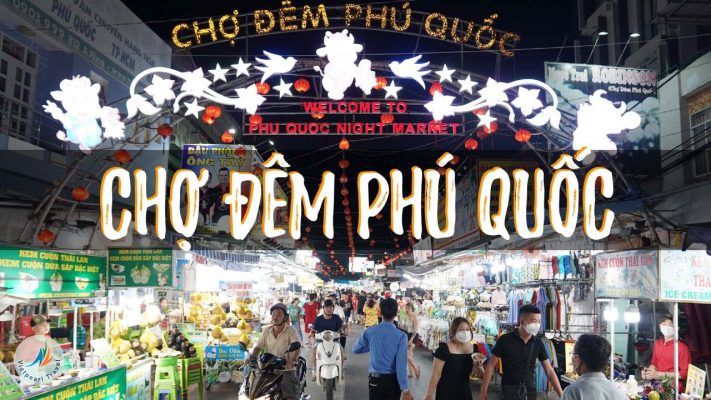 Phu Quoc night market is one of the places that tourists cannot ignore when coming to the island. The atmosphere here is always noisy, bustling with sellers and buyers. With more than 100 stalls from dining, dry specialties, and souvenirs… This place seizes the hearts of tourists from other regions to come and enjoy.
1. About Phu Quoc night market
Phu Quoc Night Market is located at Duong Dong Town. In Phu Quoc, there are many night markets located close to each other, so tourists are often confused, especially between Phu Quoc night market and Dinh Cau night market. However, these two markets are completely different and are about 150m apart, so visitors need to look up the road carefully or ask the locals for the right spot.
2. Opening hours of Duong Dong Phu Quoc night market
At about 4 pm, the stalls start selling until about 11 pm. Sometimes it lasted until 2 am the next morning. However, from 19h to 23h, the atmosphere here is very busy and crowded. Depending on the tourist season, weather and customers, the opening time may change sooner or later. Note that this market is not open overnight.
3. Explore Phu Quoc night market
3.1 Lots of fresh seafood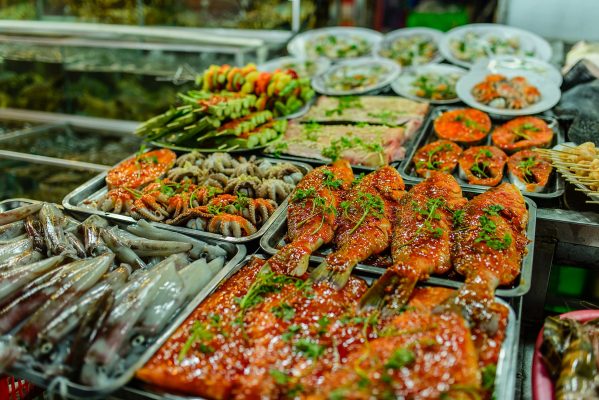 Phu Quoc night market makes the first impression on customers by the stalls of fresh seafood with a variety of different prices. Coming here, you will be able to enjoy the full flavor of fresh seafood such as sea urchins, oysters, octopus, crabs, grilled fish, and herring salad, … This is both fresh and full of sea flavor. The cooking method is simple to keep the original deliciousness of the dish. A small note is that you should eat a little of each dish to enjoy more dishes
In addition, you can stroll through the stalls of dried seafood marinated with pre-seasoned spices such as milk crabs with lemon leaves, anchovies with garlic and chili, and squid with tamarind, … to enjoy and buy as gifts. The special thing is that the prices of the dishes are listed, without worrying about being scammed. With nearly 50 different stalls, you are free to choose the one you like best to enjoy.
3.2 Paradise of snacks
Thai ice cream rolls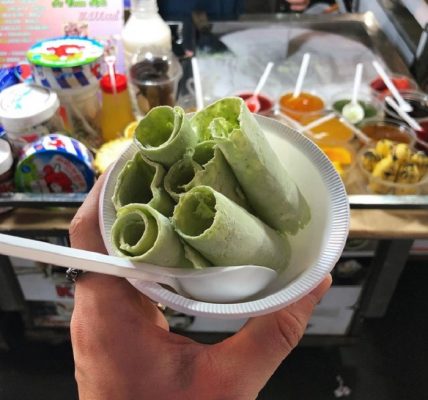 Walking along the main road of Phu Quoc night market, visitors will hear the sound of mixing and tapping sounds coming from Thai ice cream rolls. You can observe the ice cream making process from the moment you choose the type of ice cream, pour the ice cream into the cold pan, blend it and mix it with fruits or syrups of all kinds. This snack is very suitable for dessert after eating grilled seafood dishes. Therefore, it is a pity to come to Phu Quoc night market without enjoying this Thai ice cream roll.
Phu Quoc Coconut Ice Cream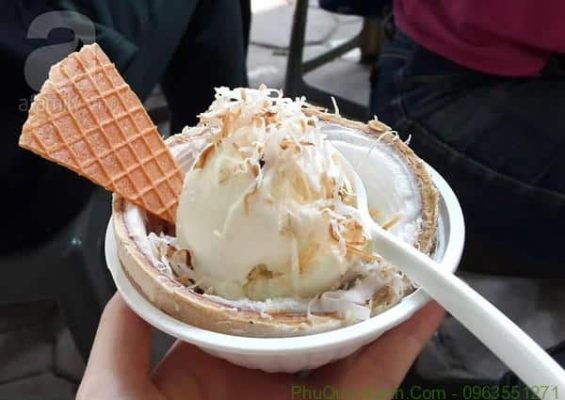 Phu Quoc coconut ice cream is a snack you should not miss when visiting this place. The ice cream balls are placed in half a coconut, decorated with peanuts, coconut fiber, and cake. Fleshy, and sweet is the typical flavor of coconut ice cream, so it is suitable for all visitors.
Cloudcandy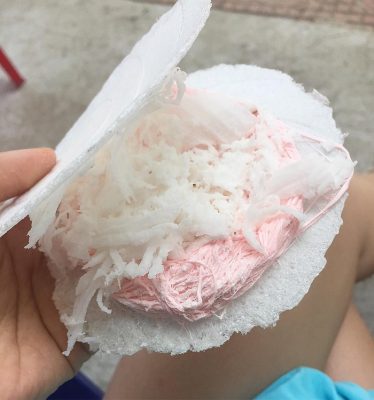 For diners with a sweet tooth, it is impossible to ignore the cloud candy. This snack is made from malt and sugar mixed with tapioca flour and then thinned until it is as thin as a thread. The seller will put candy in the layer of rice paper, and add condensed milk, peanuts, grated coconut, and black sesame on top.
Jaggery cake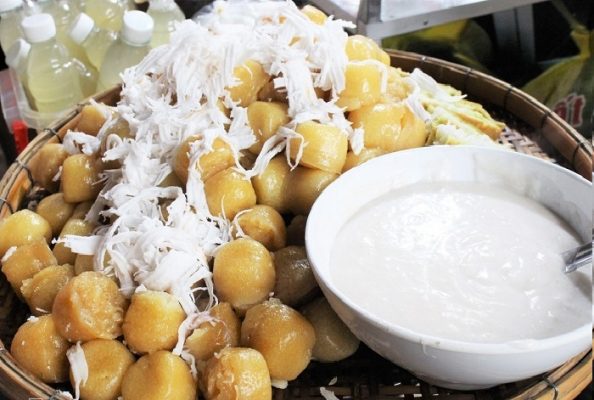 Jaggery cake, a seemingly rustic snack is one of the specialties of the night market, very popular with tourists from all over the world. The cake is made from jaggery and jaggery sugar that has a dark brown color, light sweetness, and fatty, soft aroma. Even more delicious when enjoying the hot cake covered with shredded coconut on top.
Grilled rice paper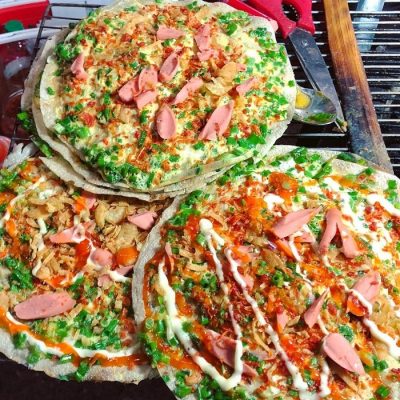 You can find grilled rice paper stalls at most night markets in Phu Quoc. The layer of rice paper is crispy, topped with a filling consisting of quail eggs, sausages, beef jerky, ground meat, etc., and grilled on hot coals. This is a unique pizza version of Vietnam, guaranteed to make an unforgettable taste for customers.
Coconut with jaggery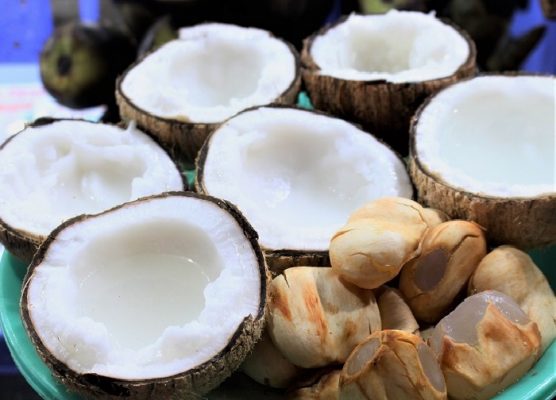 Although it is an emerging drink at Phu Quoc night market, coconut with jaggery has quickly attracted many snackers. A cup of soft, crunchy jaggery with ice, sugar, and condensed milk is both cool, greasy, and cool enough to make you crazy. Believe that even the most demanding customers will fall in love with this delicacy.
3.3 Cute souvenirs
After resting and having fun in Phu Quoc, visitors should not miss some "specialties" as gifts for family and friends.
Phu Quoc myrtle wine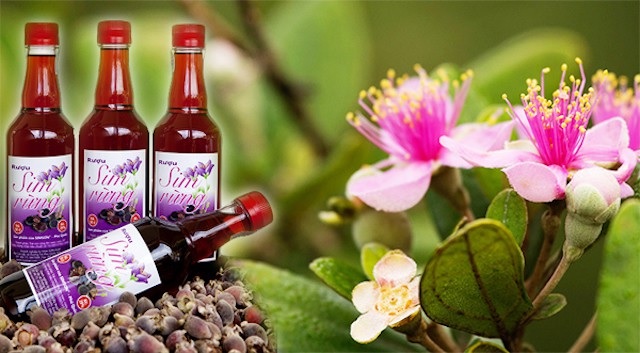 Myrtle wine is made from ripe myrtle fruit, picked from Ham Ninh forest in the first lunar month. The wine has a delicious taste, is very good for the digestive system, purifies blood, fights aches and pains… This wine is only available in Phu Quoc, so this is a specialty that tourists would normally choose as a gift. If you are thinking about gifts, don't miss this scrumptious sim wine!
Phu Quoc Pepper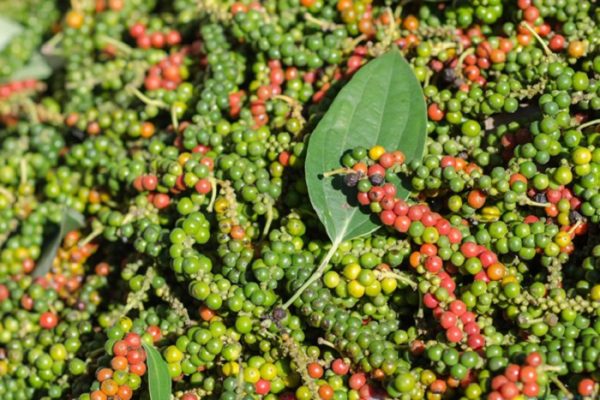 Phu Quoc pepper has its unique taste and is more fragrant and delicious than in other regions, so many people choose to buy it as a gift. The pepper here has a thin shell, a solid intestine, and a strong taste.
Nothing to worry or hesitate, visit website of Vietpearl Travel: https://vietnampleasetour.com/
Vietpearl Travel is pleased to serve you, Please kindly contact with Team of Vietpearl Travel